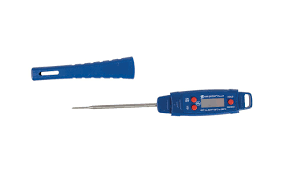 Quick Measurements & Durable Design
The Escali Waterproof Digital Thermometer is built to last. The dishwasher safe design is paired with extra durable buttons and a quick reading stainless steel probe for the ultimate temperature measuring tool.


Quick Response
The extra thin 1.2 mm probe tip allows for ultra fast measurements within 1-3 seconds.


IP68 Protection
This thermometer is dishwasher safe and rated waterproof up to 1.5 meters for 30 minutes.


Extra Durable Buttons
The buttons are made from an extremely durable material that will last the life of your thermometer.