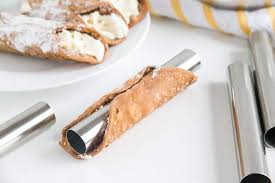 Make beautiful and authentic cannolis that are sure to impress your family and friends with the help of these Fox Run 5.5" Tin-Plated Steel Cannoli Forms.
This set of 4 cannoli forms is made of durable tin-plated steel, which makes them durable, easy to use and easy to clean. Simply wrap pastry dough around the form, seal and fry. Fill with cream once cannoli have cooled. 
This set is perfect for any enthusiasts who enjoy to make delicious, crispy and creamy cannolis at home.