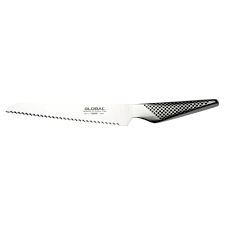 A medium sized serrated utility knife with a flat blade. Easy to cut through sandwiches down onto the board, also good for tomatoes, courgettes and other hard skinned vegetables.
Global knives were first made in Japan in 1985. The designer Komin Yamadi was asked to produce a range of new knives in a modern design. These new Global knives were to be revolutionary in design and to be manufactured from the best materials. The range of Global knives is now very large and has won numerous awards.
The stainless steel handles on Global knives have been shaped for comfort and have dimples for extra grip.
Global knives have

 

extra sharp knife blades

 

- made from Cromova 18 stainless steel - which has been ice hardened to Rockwell 56 - 58.
Easy to clean

 

- there are no dirt traps on these knives.
Global knives are favoured by many professional chefs worldwide and have won many awards since their introduction in 1985.