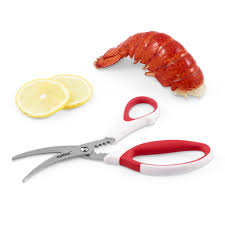 Curved blades for easy cutting of shells
Easily cracks and cuts - crab, shrimp, lobster, crawfish and more.
Dynamic 2-in-1 tool with shearing scissors and integrated cracker to break shells.
Stainless steel blades are curved to reach into and follow contour of shells without damaging meat.
Zyliss 5 Year Manufacturer Guarantee - Dishwasher Safe, Hand Wash Recommended.